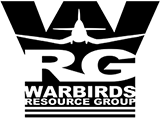 A WARBIRDS RESOURCE
GROUP WEBSITE
---
---
CONTACT US
SUPPORT THE SITE
---
WARBIRDS RESOURCE GROUP > VIETNAM > PREVIOUS PAGE

---
Sikorsky H-54 Tarhe
---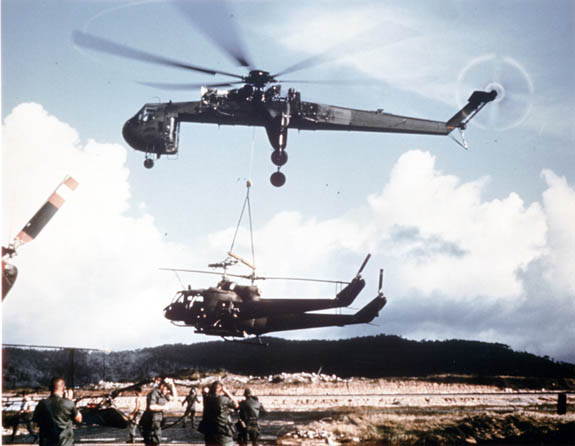 ---
The CH-54 Tarhe is a twin-engine heavy-lift helicopter designed by Sikorsky Aircraft for the United States Army. It is named after Tarhe (whose nickname was "The Crane"), an eighteenth-century chief of the Wyandot Native American tribe. The civil version is the S-64 Skycrane.

---
Type: Heavy Lift Helicopter
Crew: 3
Manufacturer: Sikorsky
Models: see variants

Maiden flight: 1962
Service Delivery: N/A
Number built: 105

---
Specifications: CH-54B Tarhe

Powerplant:
Model: ratt & Whitney T73-P-700
Type: Turboshaft
Number: Two
Horsepower: 4,800 shp each


---

Dimensions:
Length: 88 ft 6 in (26.97 m)
Rotor Diameter: 72 ft 0 in (21.95 m)
Height: 25 ft 5 in (7.75 m)
Disc area: 4071.5 ft² (378.24 m²)

Weights:
Empty: 19,800 lb (8,980 kg)
Max takeoff: 47,000 lb (21,000 kg)
Payload: 20,000 lb (9,000 kg)

Performance:
Maximum speed: 150 mph (240 kph)
Cruise speed: 115 mph (185 kph)
Range: 230 mi (370 km)
Service ceiling: 18,330 ft (5,600 m)
Rate of climb: 1,330 ft/min (6.75 m/s)

---
Development:
The first flight of the turboshaft-powered S-64 Skycrane was May 9, 1962, with the U.S. Army eventually purchasing 105, designating them CH-54. Used in Vietnam for transport and downed-aircraft retrieval, it was highly successful, thanks to the 'adaptable' nature of the module system first conceived by General James M. Gavin in his book Airborne Warfare in 1947. Early pods could not carry troops and external sling-loads at the same time. Advanced pods for the CH-54 could carry troops and cargo underslung at the same time but were not purchased. The Skycrane can not only hold its cargo up and tight against its center spine to lessen drag and eliminate the pendulum effect when flying forward, it can winch vehicles up and down from a hovering position, so the helicopter itself need not land.. Due to budget cuts the HLH program was cancelled and the CH-54s not upgraded with larger engines. Boeing CH-47 Chinook gradually supplemented it in combat, although Skycranes remained in U.S. National Guard service until the early 1990s. The Soviet Union also created much larger crane helicopters with a similar skeletal design.
Today, Erickson Air-Crane of Central Point, Oregon operates the largest fleet of S-64 helicopters in the world under the name Erickson S-64 Aircrane, which can be equipped with water-bombing equipment for firefighting duties worldwide. After obtaining the type certificate and manufacturing rights in 1992, Erickson remains the manufacturer and world's largest operator of S-64s.
Variants:
YCH-54A: Pre-production aircraft, six built.
CH-54A: Production model powered by two 4500shp T-73-P1 turboshafts, 54 built.
CH-54B: Heavier version of the CH-54A with two 4800 shp T-73-P700 turboshafts and twin-wheeled main undercarriage, 37 built.
---
Sources:
Wikipedia: H-54 Tarhe
---
---