---
WARBIRDS RESOURCE GROUP
>
VIETNAM
>
F-104 STARFIGHTER
>
PREVIOUS PAGE
---
Lockheed F-104 Starfighter
---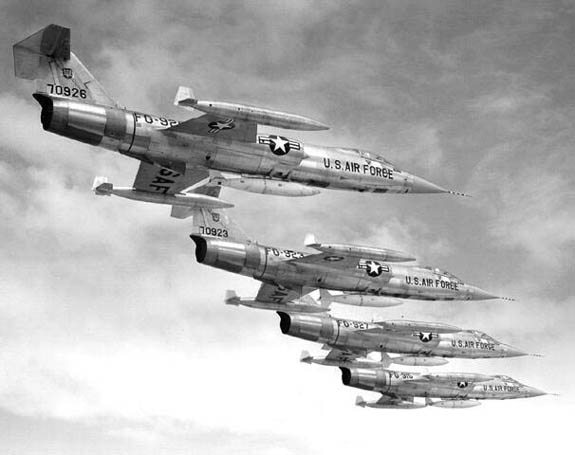 ---
Lockheed F-104 Starfighter was an American single-engined, high-performance, supersonic interceptor aircraft that was one of the Century Series of aircraft and served with the United States Air Force (USAF) from 1958 until 1967. It continued in service with Air National Guard units until it was phased out in 1975. The National Aeronautics and Space Administration (NASA) flew a small mixed fleet of F-104 types in support of supersonic flight tests and spaceflight programs until they were retired in 1994. Several two-seat trainer versions were produced, the most numerous being the TF-104G.
The F-104C was used in combat with the USAF during the Vietnam War, and F-104A aircraft were deployed by Pakistan during the Indo-Pakistani wars. Republic of China Air Force F-104s also engaged MiG-19s of the People's Liberation Army Air Force over the disputed island of Kinmen.
The poor safety record of the F-104 Starfighter brought the aircraft into the public eye, especially in Luftwaffe service, and the subsequent Lockheed bribery scandals surrounding the original purchase contracts caused considerable political controversy in Europe and Japan. A USAF study of other Century Series fighters revealed that the F-100 Super Sabre had an accident rate far worse than the F-104.
The F-104G version sold well amongst NATO air forces where these high-speed fighter-bomber variants continued in service with most operators until the late 1980s. Lockheed developed the final and most advanced version of the Starfighter, the F-104S, for use by the Italian Air Force which was designed to carry AIM-7 Sparrow missiles, the Italian Air Force being the last remaining Starfighter operator on retiring their fleet in 2004. Many F-104 users eventually replaced them with the F-16 or Panavia Tornado. A projected, highly-modified version of the F-104 known as the CL-1200 Lancer did not proceed and the project was cancelled at the mock-up stage. A civilian demonstration team based in Florida operates the last three airworthy Starfighters.
– Design & Development
– Variants
– Operational History
– Operators
– Survivors

---
Type: Interceptor & fighter-bomber
Crew: 1
Manufacturer: Lockheed Aircraft
Models: see variants

Maiden flight: March 4, 1954
Service Delivery: Feb. 20, 1958
Number built: 2,578

---
Specifications: F-104G

Powerplant:
Model: General Electric J79-GE-11A
Type: afterburning turbojet
Number: One
Dry thrust: 10,000 lbf (48 kN)
Thrust with afterburner: 15,600 lbf (69 kN)

Dimesions:
Length: 54 ft 8 in (16.66 m)
Wingspan: 21 ft 9 in (6.36 m)
Height: 13 ft 6 in (4.09 m)
Wing area: 196.1 sq ft (18.22 m²)
Airfoil: Biconvex 3.36% root and tip
Zero-lift drag coefficient: 0.0172
Drag area: 3.37 sq ft (0.31 m²)
Aspect ratio: 2.45

Weights:
Empty: 14,000 lb (6,350 kg)
Loaded: 20,640 lb (9,365 kg)
Max takeoff: 29,027 lb (13,170 kg)


Performance:
Maximum speed: 1,328 mph (1,154 knots, 2,125 km/h)
Combat radius: 420 mi (365 NM, 670 km)
Ferry range: 1,630 mi (1,420 nm, 2,623 km)
Service ceiling: 50,000 ft (15,000 m)
Rate of climb: 48,000 ft/min (244 m/s)
Wing loading: 105 lb/sq ft (514 kg/m²)
Thrust/weight: 0.54 with max. takeoff weight (0.76 loaded)
Lift-to-drag ratio: 9.2


---

Armament
1× 20 mm (0.787 in) M61 Vulcan cannon
– ammunition: 725 rounds

Hardpoints:
7 with a capacity of 4,000 lb (1,800 kg)

---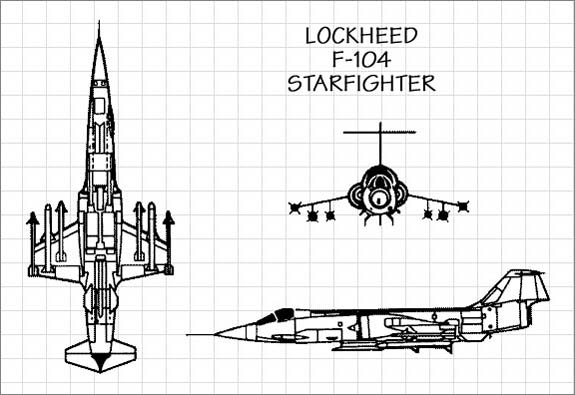 ---
Sources:
Wikipedia: F-104 Starfighter
---
WARBIRDS RESOURCE GROUP
>
VIETNAM
>
F-104 STARFIGHTER
>
PREVIOUS PAGE
---