---
WARBIRDS RESOURCE GROUP
>
VIETNAM
>
F-4 PHANTOM II
>
PREVIOUS PAGE
---
McDonnell Douglas F-4 Phantom II
---
The McDonnell Douglas F-4 Phantom II is a two-seat, twin-engined supersonic long-range all-weather fighter-bomber originally developed for the U.S. Navy by McDonnell Aircraft.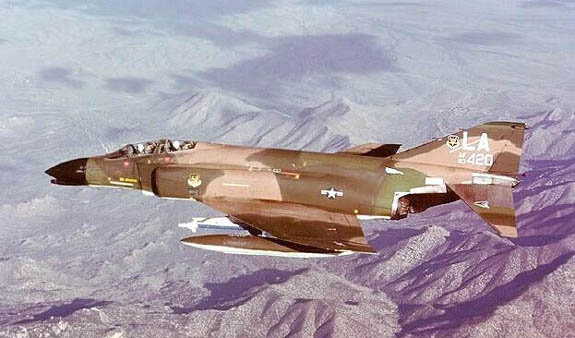 The Phantom remained in production from 1958 to 1981, with a total of 5,195 built, and was used by the U.S. military from 1960 to 1996, serving with the U.S. Air Force, Marine Corps, and the US Navy. It was used extensively by all three U.S. services operating in Vietnam, ending the war as the principal air superiority fighter for both the Navy and Air Force, as well as being important in the ground-attack and reconnaissance roles.
The Phantom continued to form a major part of U.S. military air power throughout the 1970s and 80s, being gradually replaced by more modern aircraft such as the F-15 Eagle and F-16 Fighting Falcon in the U.S. Air Force and the F-14 Tomcat and F/A-18 Hornet in the U.S. Navy. It remained in service in the reconnaissance and Wild Weasel roles in the 1991 Gulf War.
The Phantom was also operated by the armed forces of 11 other nations. Israeli Phantoms saw extensive combat in numerous Arab–Israeli conflicts, while Iran used its large fleet of Phantoms in the Iran–Iraq War. Phantoms remain in front line service with seven countries, and in use as an unmanned target in the U.S. Air Force.
---
WARBIRDS RESOURCE GROUP
>
VIETNAM
>
F-4 PHANTOM II
>
PREVIOUS PAGE
---