---
WARBIRDS RESOURCE GROUP
>
VIETNAM
>
F-4 PHANTOM II
>
PREVIOUS PAGE
---
McDonnell Douglas F-4 Phantom II
Operational History
United States Navy
On 30 December 1960, the VF-121 Pacemakers became the first Phantom operator with its F4H-1Fs (F-4As). The VF-74 Be-devilers at NAS Oceana became the first deployable Phantom squadron when it received its F4H-1s (F-4Bs) on 8 July 1961. The squadron completed carrier qualifications in October 1961 and Phantom's first full carrier deployment between August 1962 and March 1963 aboard USS Forrestal. The second deployable US Atlantic Fleet squadron to receive F-4Bs was the VF-102 Diamondbacks who promptly took their new aircraft on the shakedown cruise of Enterprise. The first deployable US Pacific Fleet squadron to receive the F-4B was the VF-114 Aardvarks, which participated in the September 1962 cruise aboard Kitty Hawk.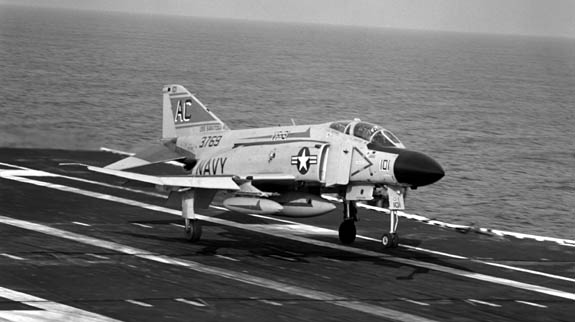 A F-4J Phantom II aircraft from Fighter Squadron 31 (VF-31) assigned to Carrier Air Wing 3 (CVW-3) landing aboard the aircraft carrier USS SARATOGA (CV-60)
underway off the coast of Florida. (U.S. Navy Photo)
By the time of the Tonkin Gulf incident, 13 of 31 deployable Navy squadrons were armed with the type. F-4Bs from Constellation made the first Phantom combat sortie of the Vietnam War on 5 August 1964, flying bomber escort in Operation Pierce Arrow. The first Phantom air-to-air victory of the war took place on 9 April 1965 when an F-4B from VF-96 Fighting Falcons piloted by Lt JG Terence M. Murphy shot down a Chinese MiG-17 'Fresco'. The Phantom was then shot down, apparently by an AIM-7 Sparrow from one of its wingmen. On 17 June 1965, an F-4B from VF-21 Freelancers piloted by Cdr Thomas C. Page and Lt John C. Smith shot down the first North Vietnamese MiG of the war.
On 10 May 1972, Randy "Duke" Cunningham and William P. Driscoll flying an F-4J with the radio call sign "Showtime 100" shot down three MiG-17s to become the first flying aces of the war. Their fifth victory was believed at the time to be over a mysterious North Vietnamese ace Colonel Toon, now considered mythical. On the return flight, the Phantom was damaged by an enemy surface-to-air missile. To avoid being captured, Cunningham and Driscoll flew their burning aircraft upside down (the damage made the aircraft uncontrollable in a conventional attitude) until they could eject over water. Cunningham and Driscoll became USN aces by shooting down five or more enemy aircraft.
During the war, Navy Phantom squadrons participated in 84 combat tours with F-4Bs, F-4Js, and F-4Ns. The Navy claimed 40 air-to-air victories at the cost of 71 Phantoms lost in combat (5 to aircraft, 13 to SAMs, and 53 to AAA). An additional 54 Phantoms were lost in accidents. Of the 40 aircraft shot down by Navy and Marine Phantom crews, 22 were MiG-17s, 14 MiG-21s, two Antonov An-2s, and two MiG-19s. Of these, eight aircraft were downed by AIM-7 Sparrow missiles and 31 by AIM-9 Sidewinders.
By 1983, the F-4Ns had been completely replaced by F-14 Tomcats, and by 1986 the last F-4Ss were exchanged for F/A-18 Hornets. On 25 March 1986, an F-4S belonging to VF 151 Vigilantes became the last Navy Phantom to launch from an aircraft carrier (Midway). On 18 October 1986, an F-4S from VF-202 Superheats made the last-ever Phantom carrier landing aboard America. In 1987, the last of the Naval Reserve-operated F-4Ss were replaced by F-14s. The last Phantoms in service with the Navy were the QF-4 target drones operated by the Naval Air Warfare Centers. These were retired in 2004.
United States Marine Corps
The Marines received their first F-4Bs in June 1962, with the VMFA-314 Black Knights becoming the first operational squadron. In addition to attack variants, the Marines also operated several tactical reconnaissance RF-4Bs. Marine Phantoms from VMFA-531 Gray Ghost arrived in Vietnam on 10 April 1965, flying close air support missions from land bases as well as from America. Marine F-4 pilots claimed three enemy MiGs (two while on exchange duty with the USAF) at the cost of 75 aircraft lost in combat, mostly to ground fire, and four in accidents. On 18 January 1992, the last Marine Phantom, an F-4S, was retired by VMFA-112 Cowboys. The squadron was re-equipped with F/A-18 Hornets.
United States Air Force
At first reluctant to adopt a Navy fighter, the USAF quickly embraced the design and became the largest Phantom user. The first Air Force Phantoms in Vietnam were F-4Cs from the 555th "Triple Nickel" Tactical Fighter Squadron, which arrived in December 1964. Unlike the Navy, the Air Force initially flew its Phantoms with a rated pilot in the back seat rather than a weapon/targeting systems officer (later designated as weapon systems officer or WSO), and all USAF Phantoms retained dual flight controls.
USAF F-4Cs scored their first victories against North Vietnamese MiG-17s on 10 July 1965 using AIM-9 Sidewinder air-to-air missiles. On 24 July 1965, a Phantom from the 47th Tactical Fighter Squadron on temporary assignment in Vietnam became the first American aircraft to be downed by an enemy SAM, and on 5 October 1966 an 8th Tactical Fighter Wing F-4C became the first U.S. jet lost to an air-to-air missile, fired by a MiG-21.
Early aircraft suffered from leaks in wing fuel tanks that required re-sealing after each flight and 85 aircraft were found to have cracks in outer wing ribs and stringers. There were also problems with aileron control cylinders, electrical connectors, and engine compartment fires. Reconnaissance RF-4Cs made their debut in Vietnam on 30 October 1965, flying the hazardous post-strike reconnaissance missions.
Although the F-4C was essentially identical to the Navy F-4B in flight performance and carried the Navy-designed Sidewinder missiles, USAF-tailored F-4Ds initially arrived in June 1967 equipped with AIM-4 Falcons. However, the Falcon like its predecessors was designed to shoot down bombers flying straight and level. Its reliability proved no better than others, and its complex firing sequence and limited seeker-head cooling time made it virtually useless in combat against agile fighters. The F-4Ds reverted to using Sidewinders under the "Rivet Haste" program in early 1968, and by 1972, the AIM-7E-2 "Dogfight Sparrow" had become the preferred missile for USAF pilots. Like other Vietnam War Phantoms, the F-4Ds were urgently fitted with radar homing and warning (RHAW) antennae to detect the Soviet-built SA-2 Guideline SAMs.
From the initial deployment of the F-4C to Southeast Asia, USAF Phantoms performed both air superiority and ground attack roles, supporting not only ground troops in South Vietnam but also conducting bombing sorties in Laos and North Vietnam. As the F-105 force underwent severe attrition between 1965 and 1968, the bombing role of the F-4 proportionately increased until after November 1970 (when the last F-105D was withdrawn from combat) it became the primary USAF ordnance delivery system. In October 1972 the first squadron of EF-4C Wild Weasel aircraft deployed to Thailand on temporary duty.
Sixteen squadrons of Phantoms were permanently deployed between 1965 and 1973, and 17 others deployed on temporary combat assignments. Peak numbers of combat F-4s occurred in 1972, when 353 were based in Thailand. A total of 445 Air Force Phantom fighter-bombers were lost, 370 in combat and 193 of those over North Vietnam (33 to MiGs, 30 to SAMs, and 307 to AAA).
The RF-4C was operated by four squadrons, and of the 83 losses, 72 were in combat including 38 over North Vietnam (seven to SAMs and 65 to AAA). By war's end the U.S. Air Force had lost a total of 528 F-4 and RF-4C Phantoms. When combined with US Naval/Marine losses of 233 Phantoms; 761 F-4/RF-4 Phantoms were lost in the Vietnam War.
On 28 August 1972, Steve Ritchie became the first USAF ace of the war. On 9 September 1972, WSO Charles B. DeBellevue became the highest-scoring American ace of the war with six victories. WSO Jeffrey Feinstein became the last USAF ace of the war on 13 October 1972. USAF F-4s scored 107½ MiG kills in Southeast Asia (50 by Sparrow, 31 by Sidewinder, five by Falcon, 15.5 by gun, and six by other means).
On 31 January 1972, the 170th Tactical Fighter Squadron/183d Tactical Fighter Group of Illinois Air National Guard became the first Air National Guard unit to transition to Phantoms. The ANG service lasted until 31 March 1990, when the Phantom was replaced by the F-16 Fighting Falcon. Then, on 15 August 1990, 24 F-4G Wild Weasel Vs and six RF-4Cs were mobilized to the Middle East for Operation Desert Storm. The reason for this was that the F-4G was the only aircraft in the USAF inventory equipped for the suppression of enemy air defenses (SEAD) role since the EF-111 Raven lacked the offensive capability of AGM-88 HARM missiles. The RF-4C was the only aircraft equipped with the ultra-long-range KS-127 LOROP (long-range oblique photography) camera. In spite of flying almost daily missions, only one RF-4C was lost in a fatal accident before the start of hostilities. One F-4G was lost when enemy fire damaged the fuel tanks and the aircraft ran out of fuel near a friendly airbase. The last USAF Phantoms, F-4G Wild Weasel Vs from 561st Fighter Squadron, were retired on 26 March 1996. The last operational flight of the F-4G Wild Weasel was from the 190th Fighter Squadron, Idaho Air National Guard, in April 1996. The last operational USAF/ANG F-4 to land was flown by Maj. Mike Webb and Maj. Gary Leeder, Idaho ANG. Like the Navy, the Air Force continues to operate QF-4 target drones, serving with the 82nd Aerial Targets Squadron, it being expected that the F-4 will remain in the target role with the 82nd ATRS until 2013/14.
---
Sources:
Wikipedia: F-4 Phantom II
---
WARBIRDS RESOURCE GROUP
>
VIETNAM
>
F-4 PHANTOM II
>
PREVIOUS PAGE
---