---
WARBIRDS RESOURCE GROUP
>
VIETNAM
>
PREVIOUS PAGE
---
Mil Mi-8
---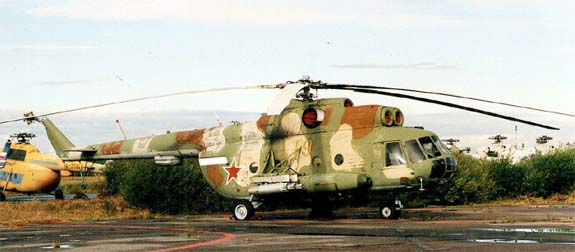 ---
The Mil Mi-8 (NATO reporting name "Hip") is a medium twin-turbine transport helicopter that can also act as a gunship. The first single-engine (AI-24W) prototype, W-8, flew in 9 July 1961. A second one with two AI-24W engines made its first flight on 17 September 1962. After few changes it was introduced into the Soviet Air Force by 1967 as Mi-8.
The Mi-8 is the world's most-produced helicopter, and is used by over 50 countries. There are numerous variants, including the Mi-8T which is armed with rockets and anti-tank guided missiles, in addition to carrying twenty four soldiers. The Mil Mi-17 export version is employed by around 20 countries; its equivalent in Russian service in the Mi-8M series. The naval Mil Mi-14 and attack Mil Mi-24 are also derived from the Mi-8.

---
Type: Transport Helicopter
Crew: Three – two pilots and one engineer
Manufacturer:
Mil Moscow Helicopter Plant

Maiden flight: July 9, 1961
Service Delivery: 1967
Number built: 12,000+

---
Specifications:
Mi-8T
Powerplant:
Model: Klimov TV2-117
Type: Turboshaft
Number: Two
Horsepower: 1,482 shp


---

Dimensions:
Length: 18.2 m (59 ft 8 in)
Rotor diameter: 21.3 m (69 ft 11 in)
Height: 3.00 m (9 ft 10 in)
Disc area: 356 m² (3,830 ft²)

Weights:
Empty: 6,990 kg (15,410 lb)
Loaded: 11,100 kg (24,500 lb)
Max takeoff: 12,000 kg (26,500 lb)
Capacity: 24 passengers or 3,000 kg
(6,600 lb) on internal/external hardpoints.

Performance:
Maximum speed: 250 km/h (156 mph)
Range: 450 km (280 mi)
Service ceiling: 4,500 m (14,760 ft)
Rate of climb: 9 m/s (1,770 ft/min)
Fuel consumption: 600 kg/h (1,320 lb/h)

---
Armament:
Up to 1,500 kg (3,300 lb) of disposable stores on six hardpoints, including 57 mm S-5 rockets, bombs, or 9M17 Phalanga ATGMs.
---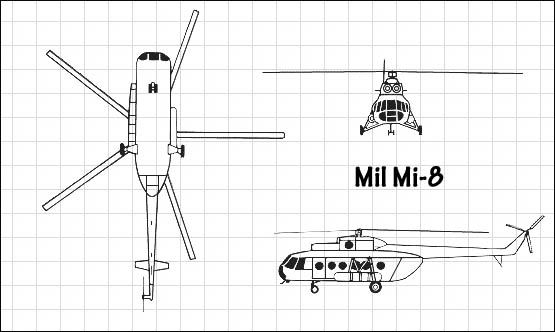 ---
Sources:
Wikipedia: Mi 8
---
WARBIRDS RESOURCE GROUP
>
VIETNAM
>
PREVIOUS PAGE
---