---
WARBIRDS RESOURCE GROUP
>
VIETNAM
>
THUD
>
PREVIOUS PAGE
---
Republic F-105 Thunderchief
---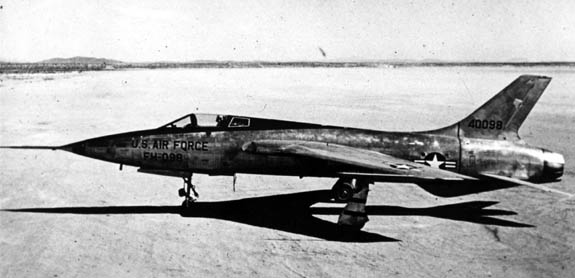 Republic YF-105A (S/N 54-0098, the first of two prototypes). (U.S. Air Force photo)
The Republic F-105 Thunderchief, was a single-seat supersonic fighter-bomber used by the United States Air Force. The Mach 2 capable F-105 bore the brunt of strike bombing over North Vietnam during the early years of the Vietnam War. A two-seat Wild Weasel version was later used in the specialized SEAD role of suppressing surface-to-air missile sites. It was commonly known as the "Thud" by its crews.
As a follow-on to the Mach 1 capable F-100, the F-105 was also armed with missiles and a cannon; however, its design was tailored to high-speed low-altitude penetration carrying a single nuclear bomb internally. First flown in 1955, the Thunderchief entered service in 1958. As the largest single-engined fighter ever employed by the USAF, the single-seat F-105 would be adapted to deliver a greater iron bomb load than the four-engined ten-man strategic bombers of World War II. The F-105 would be best remembered as the primary strike bomber over North Vietnam in the early stages of the Vietnam War. Over 20,000 Thunderchief sorties were flown, with 382 aircraft lost (nearly half of the 833 produced) including 62 operational casualties. Although it lacked the agility of the smaller MiG fighters, USAF F-105s demonstrated the effectiveness of guns, and were credited with downing 27.5 enemy aircraft.
During the war, the two-seat F-105F and F-105G Wild Weasel variants became the first dedicated Suppression of Enemy Air Defenses (SEAD) platforms, fighting against the Soviet-built S-75 Dvina (SA-2 Guideline) surface-to-air missiles. Two Wild Weasel pilots earned the Medal of Honor attacking missile sites, with one shooting down two MiG-17s the same day. The dangerous missions often required them to be the "first in, last out" in order to suppress the threat air defenses prior to strike aircraft arriving and keeping them suppressed until the strike aircraft left the area.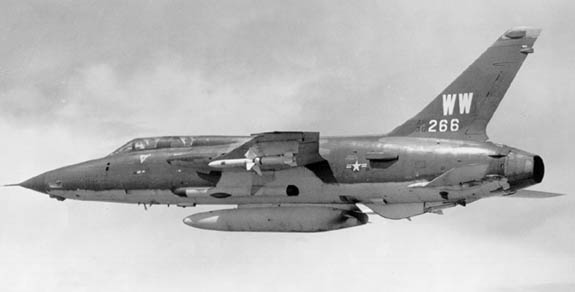 A two-seat F-105G Wild Weasel. (U.S. Air Force photo)
Although the F-105 weighed 50,000 pounds (22,680 kg), the aircraft could exceed the speed of sound at sea level and Mach 2 at high altitude. It could carry up to 14,000 pounds (6,700 kg) of bombs and missiles. The Thunderchief was later replaced as a strike aircraft over North Vietnam by both the F-4 Phantom II and the swing-wing F-111. However, the "Wild Weasel" variants remained in service until 1984, when they were replaced by a specialized F-4G "Wild Weasel V".
– Design & Development
– Variants
– Specifications
– Operational History
– Gallery
– Survivors

---
Sources:
Wikipedia: F-105 Thunderchief
---
WARBIRDS RESOURCE GROUP
>
VIETNAM
>
THUD
>
PREVIOUS PAGE
---