---
WARBIRDS RESOURCE GROUP
>
VIETNAM
>
PREVIOUS PAGE
---
Mikoyan-Gurevich MiG 15
---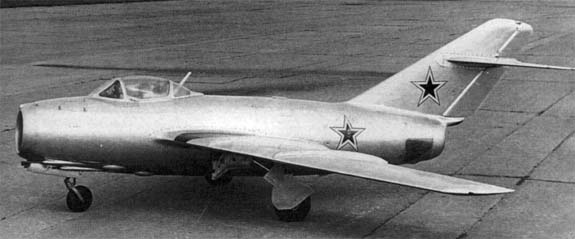 ---
The Mikoyan-Gurevich MiG-15 (NATO reporting name Fagot) was a jet fighter developed for the USSR by Artem Mikoyan and Mikhail Gurevich. The MiG-15 was one of the first successful swept-wing jet fighters, and it achieved fame in the skies over Korea, where it outclassed all enemy fighters except the F-86 Sabre. The MiG-15 also served as the starting point for development of the more advanced MiG-17 which would oppose American fighters over Vietnam in the 1960s. The MiG-15 is believed to have been the most numerous jet aircraft ever made, with over 12,000 built. Licensed foreign production perhaps raised the total to over 18,000.
---
Type: Fighter
Crew: 1 (2 for trainer)
Manufacturer: Mikoyan-Gurevich
Models: see variants

Maiden flight: Dec. 30, 1947
Service Delivery: 1949
Number built: 18,000+

---
Specifications:
MiG-15bis
Powerplant:
Model: Klimov VK-1
Type: Turbojet
Number: One
Thrust: 5,950 lb


---

Dimensions:
Length: 10.11 m (33 ft 2 in)
Wingspan: 10.08 m (33 ft 1 in)
Height: 3.70 m (12 ft 2 in)
Wing area: 20.6 m² (221.74 ft²)
Airfoil: TsAGI S-10 / TsAGI SR-3
Fuel capacity: 364 US gal (1,400 L)

Weights:
Empty: 3,580 kg (7,900 lb)
Loaded: 4,960 kg (10,935 lb)
Max takeoff: 6,105 kg (13,460 lb)

Performance:
Maximum speed: 1,075 km/h (668 mph)
Cruise Speed: 840 km/h (520 mph)
Range: 745 mi (1,200 km)
Service ceiling: 15,500 m (50,850 ft)
Rate of climb: 50 m/s (9,840 ft/min)
Wing loading: 240.8 kg/m² (49.3 lb/ft²)
Thrust/weight: 0.54

---
Armament:
2x 23 mm Nudelman-Rikhter NR-23KM cannons (80 rounds per gun, 160 rounds total)
1x 37 mm NL-37D cannon (40 rounds)
2x 100 kg (220 lb) bombs, drop tanks, or unguided rockets on underwing hardpoints.
---
Sources:
Wikipedia: MiG 15
---
WARBIRDS RESOURCE GROUP
>
VIETNAM
>
PREVIOUS PAGE
---