---
WARBIRDS RESOURCE GROUP
>
VIETNAM
>
STRATOFORTRESS
>
PREVIOUS PAGE
---
Boeing B-52 Stratofortress
---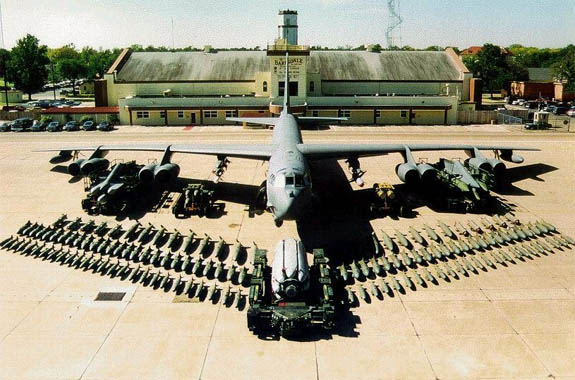 ---
The Boeing B-52 Stratofortress is a long-range, subsonic, jet-powered, strategic bomber operated by the United States Air Force (USAF) since 1955.
Beginning with the successful contract bid on 5 June 1946, the B-52 went through several designs, from a straight wing aircraft powered by six turboprop engines, to the final prototype, YB-52 (with 8 engines), which first flew on 15 April 1952 by "Tex" Johnston.
Built to carry nuclear weapons for Cold War-era deterrence missions, the B-52 Stratofortress replaced the Convair B-36. Although a veteran of a number of wars, the Stratofortress has dropped only conventional munitions in actual combat. With the longest unrefuelled range of any contemporary bomber, the B-52 carries up to 70,000 pounds of weapons.
The USAF has had B-52s in active service since 1955 with Strategic Air Command and were later absorbed into Air Combat Command in 1992. Superior performance at high subsonic speeds and relatively low operating costs have kept the B-52 in service despite proposals to replace it with the Mach 3 XB-70 Valkyrie, supersonic B-1B Lancer and stealthy B-2 Spirit. In January 2005, the B-52 became the second aircraft, after the English Electric Canberra, to mark 50 years of continuous service with its original primary operator.
– Design & Development
– Variants
– Operational History
– Gallery
– Survivors

---
Type: Strategic bomber
Crew: 5-6 (pilot, copilot, radar navigator (bombardier), navigator, gunner (early models) and Electronic Warfare Officer
Manufacturer: Boeing

Models: See variants
Maiden flight: April 15, 1952
Service Delivery: Feb. 1955
Production: 1952-1962
Number built: 744

---
Specifications:
B-52H Stratofortress
Powerplant:
Model: Pratt & Whitney TF33-P-3/103
Type: Turbofan
Number: Eight
Thrust: 17,000 lb.


---

Dimensions:
Length: 159 ft 4 in (48.5 m)
Wingspan: 185 ft 0 in (56.4 m)
Height: 40 ft 8 in (12.4 m)
Wing area: 4,000 ft² (370 m²)
Airfoil:
– NACA 63A219.3 mod root
– NACA 65A209.5 tip
Fuel capacity: 47,975 US gal (181,725 L)
Zero-lift drag coefficient: 0.0119 (est.)
Drag area: 47.60 ft² (4.42 m²)
Aspect ratio: 8.56

Weights:
Empty: 185,000 lb (83,250 kg)
Loaded: 265,000 lb (120,000 kg)
Max takeoff: 488,000 lb (220,000 kg)

Performance:
Maximum speed: 650 mph (1,000 kph)
Combat Radius: 4,480 mi (7,210 km)
Ferry Range: 11,000 mi (15,000 km)
Service ceiling: 50,000 ft (17,000 m)
Rate of climb: 6,270 ft/min. (31.85 m/s))
Wing loading: 0 lb/ft² (150 kg/m²)
Thrust/weight: 0.51
Lift-to-drag ratio: 21.5 (estimated)


---

Armament
1× 20 mm M61 Vulcan cannon in a remote controlled tail turret, now decommissioned and removed from all operational aircraft.

60,000 lb (27,200 kg) of bombs
---
Sources:
Wikipedia: B-52 Stratofortress
---
WARBIRDS RESOURCE GROUP
>
VIETNAM
>
STRATOFORTRESS
>
PREVIOUS PAGE
---