---
WARBIRDS RESOURCE GROUP
>
VIETNAM
>
CAYUSE
>
PREVIOUS PAGE
---
Hughes OH-6 Cayuse
---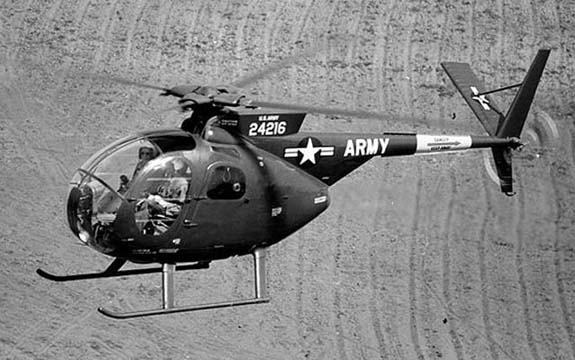 ---
The Hughes Helicopters OH-6 Cayuse (nicknamed Loach) is a single-engine light helicopter with a four-bladed main rotor used for personnel transport, escort and attack missions, and observation. Hughes also developed the Model 369 as a civilian helicopter, the Hughes Model 500, currently produced by MD Helicopters.
---
Type: Light observation helicopter
Crew: 2 + 4 passengers
Manufacturer: Hughes Tool Co.
Models: OH-6A, OH-6B, OH-6C

Maiden flight: Feb. 27, 1963
Service Delivery: 1966
Number built: 1,434+

---
Specifications:
OH-6A Cayuse
Powerplant:
Model: Allison T63-A-5A
Type: Turboshaft
Number: One
Horsepower: 317 shp


---

Dimensions:
Length: 40 ft 3 in (12.22 m)
Rotor Diameter: 26 ft 4 in (8.03 m)
Disc Area: 544.63 sq. ft. (50.60m²)
Height: 15 ft (4.57 m)

Weights:
Empty: 1,156 lb (524 kg)
Max takeoff: 2,700 lb (1,225 kg)


Performance:
Maximum speed: 143 mph (230 kph)
Range: 413 mi (665 km)
Service ceiling: N/A
Rate of climb: N/A


---

Armament:
1 XM27 7.62mm machine gun
or
1 XM-75 Grenade Launcher

---
Development:
In 1960, the United States Army issued Technical Specification 153 for a Light Observation Helicopter (LOH) capable of fulfilling various roles: personnel transport, escort and attack missions, casualty evacuation and observation. Twelve companies took part in the competition and Hughes Tool Company's Aircraft Division submitted the Model 369. Two designs, those submitted by Fairchild-Hiller and Bell, were selected as finalists by the Army-Navy design competition board, but the U.S. Army later included the helicopter from Hughes as well.
The first Model 369 prototype flew on February 27, 1963. Originally designated as the YHO-6A according to the Army's designation system, the aircraft was redesignated as the YOH-6A in 1962 when the Department of Defense created a Joint designation system for all aircraft. Five prototypes were built, fitted with a 252 shp Allison T63-A-5A, and delivered to the U.S. Army at Camp Rucker, Alabama to compete against the other 10 prototype aircraft submitted by Bell and Fairchild-Hiller. During the course of the competition, the Bell submission, the YOH-4, was eliminated[2] as being underpowered (it used the 250shp T63-A-5). The bidding for the LOH contract came down to Fairchild-Hiller and Hughes. Hughes won the bid[3], and the Army awarded a contract for production in May 1965, with an initial order for 714 which was later increased to 1300 with an option on another 114. Production reached 70 helicopters in the first month.
---
WARBIRDS RESOURCE GROUP
>
VIETNAM
>
CAYUSE
>
PREVIOUS PAGE
---