---
WARBIRDS RESOURCE GROUP
>
VIETNAM
>
PREVIOUS PAGE
---
Mikoyan-Gurevich MiG 21
---

---
The Mikoyan-Gurevich MiG-21 (NATO reporting name "Fishbed") is a supersonic jet fighter aircraft, designed and built by the Mikoyan-Gurevich Design Bureau in the Soviet Union. Some 50 countries over four continents have flown the MiG-21, and it still serves many nations a half-century after its maiden flight. Its Mach 2 capability exceeds the top speed of many later modern fighter types. Estimates are that more than 10,000 MiG-21s were built
---
Type: Fighter
Crew: 1
Manufacturer: Mikoyan-Gurevich
Models: see variants

Maiden flight: January 14, 1950
Service Delivery: Oct. 1952
Number built: 10,367+

---
Specifications:
MiG-21bis
Powerplant:
Model: Tumansky R-25-300
Type: Afterburning Turbojet
Number: One
Thrust: 15,700 lb


---

Dimensions:
Length:
15.76 m including probe (51 ft 8 in)
Wingspan: 7.15m (23 ft 5 in)
Height: 4.12m (13 ft 6 in)
Wing area: 23m² (247.5 ft²)

Weights:
Empty: 5,350 kg (11,800 lb)
Loaded: 8,726 kg (19,200 lb)
Max takeoff: 9,660 kg (21,300 lb)


Performance:
Maximum speed: 2230 km/h (1385 mph)
Range: 450-500 km (280-310 mi)
Service ceiling: 19,000 m (62,300 ft)
Rate of climb: 225 m/s (23,600 ft/min but
with 50 per cent fuel and two AA-2 "Atoll"
missiles, the MiG-21 can reach 58,000 feet
(17,600 meters) in one minute, under
favorable weather circumstances)
Wing loading: 379 kg/m² (77.8 lb/ft²)
Thrust/weight: 0.84

---
Armament:
One centerline twin-barrelled GSh-23 23 mm cannon (PFM, MF, SMT, and bis variants) or one single-barrelled NR-30 cannon (F-13 variant).
Up to 2,000 kg (4,400 lb) of air-to-air and air-to-ground weapons on two or four underwing hardpoints, depending on the variant. Early machines carried two Vympel K-13 (AA-2 'Atoll') air-to-air missiles under the wing pylons. Late models carried two K-13 and two fuel tanks under the wing pylons or combinations of four K-13 infrared- and radar-guided missiles. The Molniya R-60 (NATO reporting name AA-8 'Aphid') was also used on multiple pylons and six of them could be carried. Most aircraft carried a single 450 L (119 US gal) fuel tank on the centerline pylon.

---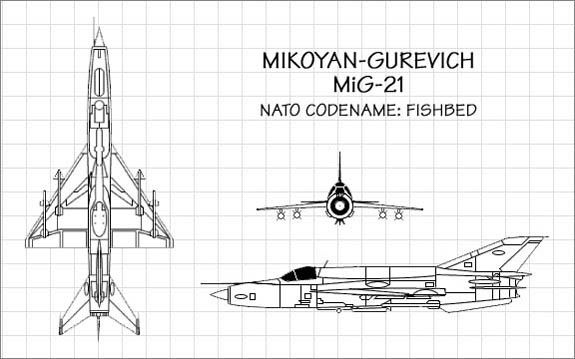 ---
Sources:
Wikipedia: MiG 21
---
WARBIRDS RESOURCE GROUP
>
VIETNAM
>
PREVIOUS PAGE
---