---
WARBIRDS RESOURCE GROUP
>
VIETNAM
>
SEA KING
>
PREVIOUS PAGE
---
Sikorsky SH-3 Sea King
Operational History
Aircraft carriers always deployed the Sea King as the first aircraft in the air and the last to land serving in air operations as plane guard and SAR for the fixed winged aircraft. An SH-3A, operating from the USS New Orleans amphibious assault ship, was used in the February 1971 Apollo 14 recovery mission.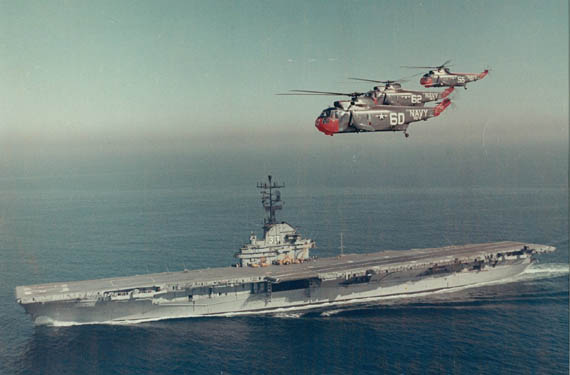 Three Sikorsky SH-3A Sea King helicopters from helicopter anti-submarine squadron HS-6 Indians, flying over the aircraft carrier USS Kearsarge (CVS-33), Circa 1963. (Source: U.S. Navy)
In the US Navy, it was replaced in the ASW and S&R roles by the SH-60 Sea Hawk during the 1990s, but continues in service for other roles, for ASW in the reserves, and around the world. All H-3 aircraft in US Navy service are used in the logistics support, range support, Search and Rescue, test, and VIP transport roles. The H-3 was finally retired on January 27, 2006 in a Final Flight ceramony in NAS Norfolk, Virginia, by Helicopter Combat Support Squadron 2 (HC-2), the Fleet Angels.
A Sea King is used as one of the official helicopters of the President of the United States and is operated by the United States Marine Corps. It is known as Marine One when the president is actually aboard.
---
Sources:
Wikipedia: Sikorsky SH-3 Sea King
---
WARBIRDS RESOURCE GROUP
>
VIETNAM
>
SEA KING
>
PREVIOUS PAGE
---