---
WARBIRDS RESOURCE GROUP
>
VIETNAM
>
PREVIOUS PAGE
---
Northrop F-5 Freedom Fighter
---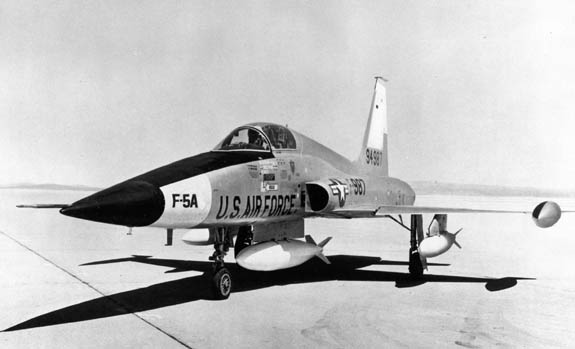 Northrop YF-5A (S/N 59-4987, first prototype aircraft). (U.S. Air Force photo)
---
The F-5A/B Freedom Fighter and F-5E/F Tiger II are part of a family of widely used light supersonic fighter aircraft, designed and built by Northrop in the United States, beginning in 1960s. Hundreds remain in service in air forces around the world in the early 21st Century, and the type has also been the basis for a number of other aircraft.
The F-5 started life as a privately-funded light fighter program by Northrop in the 1950s. The first generation F-5A Freedom Fighter entered service in the 1960s. Over 800 were produced through 1972 for U.S. allies during the Cold War. The USAF had no need for a light fighter, but it did need a trainer and procured about 1,200 of a derivative airframe for this purpose, the T-38 Talon.
The improved second-generation F-5E Tiger II was also primarily used by American Cold War allies and, in limited quantities, served in US military aviation as a training and aggressor aircraft; Tiger II production amounted to 1,400 of all versions, with production ending in 1987. Many F-5s continuing in service into the 1990s and 2000s have undergone a wide variety of upgrade programs to keep pace with the changing combat environment. The F-5 was also developed into a dedicated reconnaissance version, the RF-5 Tigereye.
– Design & Development
– Operational History
– Variants
– F-5A Specifications
– F-5E Tiger II Specifications

---
Sources:
Wikipedia: F-5 Freedom Fighter
---
WARBIRDS RESOURCE GROUP
>
VIETNAM
>
PREVIOUS PAGE
---