---
WARBIRDS RESOURCE GROUP
>
VIETNAM
>
F-102 DELTA DAGGER
>
PREVIOUS PAGE
---
Convair F-102 Delta Dagger
Variants
YF-102
- The first prototypes: Performance was unsatisfactory; drag was twice as high as it should have been due to interference-effects. Maximum Speed: 812 miles per hour
YF-102A - Area-ruled prototypes: New design featured a fuselage that was narrow in the mid-section, with aerodynamic fairings added on either side of the engine-nozzle to conform to the area-rule. Additionally, cockpit and intakes were moved further aft, the nose lengthened, and the outer contours of inlets were blended with the forward fuselage.
F-102A - Production Model: Single-seat all-weather interceptor fighter aircraft. Nose shorter than original F-102A, but featuring more powerful J-57 turbojet. 889 built.
TF-102A - Two-seat training version, 111 built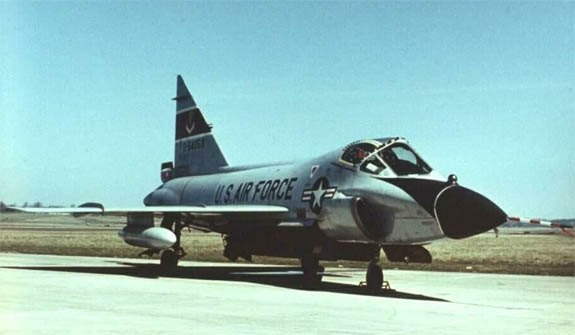 TF-102A Delta Dagger, 1965. (Source: Unknown)
F-102B
- The original designation of the F-106A
F-102C - Two converted A's with improved structural design and avionics as YF-102C, with new J57-P-47 engine for a tactical attack role; AF canceled project.
QF-102A - Two piloted target drones, (converted from the F-102A).
PQM-102A - 200+ unpiloted target drones, (converted from F-102A).
PQM-102B - Unpiloted target drones.
---
Sources:
Wikipedia: F-102 Delta Dagger
---
WARBIRDS RESOURCE GROUP
>
VIETNAM
>
F-102 DELTA DAGGER
>
PREVIOUS PAGE
---