---
WARBIRDS RESOURCE GROUP
>
VIETNAM
>
F-100 SUPER SABRE
>
PREVIOUS PAGE
---
North American F-100 Super Sabre
Design and Development
In January 1951, North American Aviation delivered an unsolicited proposal for a supersonic day fighter to the United States Air Force. Named Sabre 45 because of its 45° wing sweep, it represented an evolution of the F-86 Sabre. The mockup was inspected 7 July 1951 and after over a hundred modifications, the new aircraft was accepted as the F-100 on 30 November 1951. On 3 January 1952, the USAF ordered two prototypes followed by 23 F-100As in February and an additional 250 F-100As in August.
The YF-100A first flew on 25 May 1953, seven months ahead of schedule. It reached Mach 1.05 in spite of being fitted with a de-rated XJ57-P-7 engine. The second prototype flew on 14 October 1953, followed by the first production F-100A on 9 October 1953. The USAF operational evaluation from November 1953 to December 1955 found the new fighter to have superior performance but declared it not ready for widescale deployment due to various deficiencies in the design. These findings were subsequently confirmed during Project Hot Rod operational suitability tests. Particularly troubling was the yaw instability in certain regimes of flight which produced inertia coupling. The aircraft could develop a sudden yaw and roll which would happen too fast for the pilot to correct and would quickly overstress the aircraft structure to disintegration. It was under these conditions that North American's chief test pilot, George Welch, was killed while dive testing an early-production F-100A on 12 October 1954. A related control problem stemmed from handling characteristics of the swept wing at high angles of attack. As the aircraft approached stall speeds, loss of lift on the tips of the wings caused a violent pitch-up.
Nevertheless, delays in the F-84F Thunderstreak program pushed the Tactical Air Command to order the raw F-100A into service. TAC also requested that future F-100s should be fighter-bombers with nuclear bomb capability.
The F-107 was a follow-on Mach 2 development of the F-100 with the air intake moved above and behind the cockpit. It was not developed in favor of the F-105 Thunderchief, which would become noted for its weaknesses in close in air combat.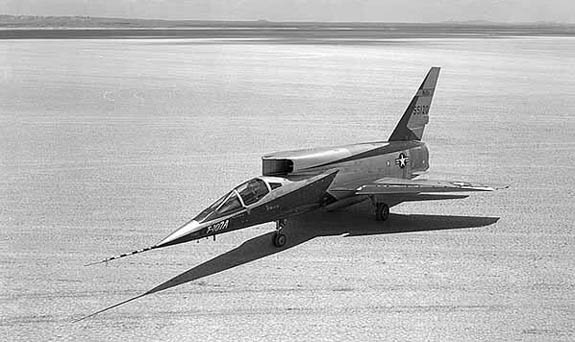 F-107 prototype.

---
Sources:
Wikipedia: F-100 Super Sabre
---
WARBIRDS RESOURCE GROUP
>
VIETNAM
>
F-100 SUPER SABRE
>
PREVIOUS PAGE
---