---
WARBIRDS RESOURCE GROUP
>
VIETNAM
>
C-7 CARIBOU
>
PREVIOUS PAGE
---
deHavilland C-7 Caribou
Operational History
In response to a US Army requirement for a tactical airlifter to supply the battlefront with troops and supplies and evacuate casualties on the return journey, de Havilland Canada designed the DHC-4. With assistance from Canada's Department of Defence Production, DHC built a prototype demonstrator that flew for the first time on 30 July 1958.
Impressed with the DHC4's STOL capabilities and potential, the US Army ordered five for evaluation as YAC-1s and went on to become the largest Caribou operator. The AC-1 designation was changed in 1962 to CV-2, and then C-7 when the US Army's CV-2s were transferred to the US Air Force in 1967. US and Australian Caribou saw extensive service during the Vietnam conflict.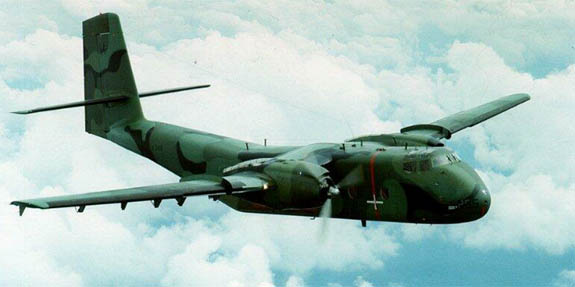 Australian Air Force Caribou (Source: Unknown)
The U.S. Army purchased 159 of the aircraft and they served their purpose well as a tactical transport during the Vietnam War, where larger cargo aircraft such as the C-123 Provider and the C-130 Hercules could not land on the shorter landing strips. The aircraft could carry 32 troops or two Jeeps or similar light vehicles. The rear loading ramp could also be used for parachute dropping.
In 1967, a political decision was made by the United States Air Force who, believing that all fixed-wing aircraft operations were its own province, demanded that the Army turn over the Caribou. The Army ultimately traded the Caribou to the Air Force in exchange for an end to restrictions on Army helicopter operations. In addition, some US Caribou were captured by North Vietnamese forces and remained in service with that country through to the late 1970s.
Most of the C-7s have since been phased out of the US military. Other notable military operators included: Australia, Brazil, Canada, India, Malaysia and Spain.
In current service, the Royal Australian Air Force still operates 14 Caribous, which are due to be replaced by 2012, while Brazil's Caribous are slowly being replaced by more modern EADS CASA C-295 turboprop cargo airplanes.
---
Sources:
Wikipedia: C-7 Caribou
---
WARBIRDS RESOURCE GROUP
>
VIETNAM
>
C-7 CARIBOU
>
PREVIOUS PAGE
---