---
WARBIRDS RESOURCE GROUP
>
VIETNAM
>
COBRA
>
PREVIOUS PAGE
---
Bell AH-1 Cobra
Operators
Bahrain
Bahrain Air Force acquired 24 AH-1Ps and 6 TAH-1P trainers.
Iran - Islamic Republic of Iran Army received 202 AH-1J Internationals. An unknown number of the Panha 2091, an unlicensed, locally-made upgrade of AH-1J serve with the army and Revolutionary Guards.
Israel
Israeli Air Force has approximately 40 AH-1F "Tzefa" ("Viper") in use.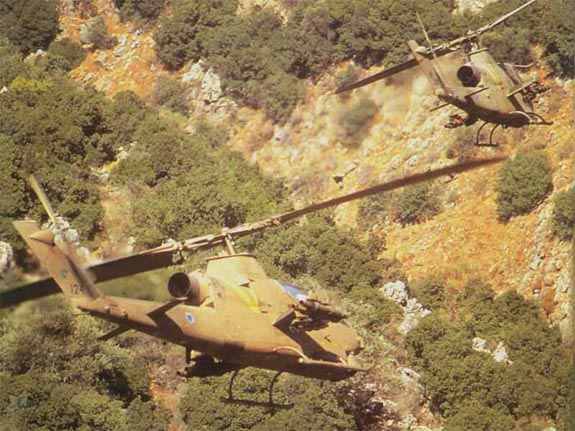 Israeli AH-1F Tzefas.
Japan
Japan Ground Self-Defense Force received 2 AH-1Es and 89 AH-1S Cobras license-manufactured by Fuji Heavy Industries from 1984 to 2000.
Jordan
Jordanian Air Force received 24 AH-1Ss and 9 AH-1Fs.
Pakistan
Pakistan Army ordered 20 AH-1S Cobras and received 10 of those in 1984 (later upgraded to AH-1F). Ordered more AH-1Fs in 2004. Currently has 20 AH-1S in use with 6 AH-1S Cobras being upgraded.
Republic of China (Taiwan) - Republic of China Army Received 63 AH-1W.
South Korea
Republic of Korea Army received 90 AH-1Fs (originally designated AH-1S).
Spain - Spanish Navy recieved 8 AH-1G Cobras, since retired.
Thailand
Royal Thai Air Force received 4 AH-1Fs in 1990.
The RTAF has 3 AH-1Fs in use as of 2004.
Turkey
Turkish Army received 32 used AH-1P/S. These were upgraded to AH-1F standards.
Turkish Army operates 9 AH-1W, upgrade pending.
United States
United States Marine Corps has approximately 269 AH-1Ws, delivered and pending delivery of the newer AH-1Z.
– HMLA-167, MCAS New River
– HMLA-169, MCAS Camp Pendleton
– HMLA-267, MCAS Camp Pendleton
– HMLA-269, MCAS New River
– HMLA-367, MCAS Camp Pendleton
– HMLA-369, MCAS Camp Pendleton
– HMLA-773, NAS Atlanta
– HMLA-775, MCAS Camp Pendleton
– HMT-303, MCAS Camp Pendleton
United States Navy used 7 AH-1Ws for test and evaluation purposes on behalf of the USMC
United States Army - Cobras replaced by AH-64 Apache.
U.S. Forest Service - (25 AH-1Fs, converting to Bell 209 Firewatch Cobras)
Florida Department of Forestry - (3 AH-1Ps, converting to Bell 209 "Firesnakes")

---
Sources:
Wikipedia: AH-1 Cobra
---
WARBIRDS RESOURCE GROUP
>
VIETNAM
>
COBRA
>
PREVIOUS PAGE
---