---
WARBIRDS RESOURCE GROUP
>
VIETNAM
>
DRAGONFLY
>
PREVIOUS PAGE
---
Cessna A-37 Dragonfly
Operators
Cambodia
Royal Cambodian Air Force
Chile
Chilean Air Force received 44 aircraft - 14 are currently operational.
Colombia
Colombian Air Force received 32 aircraft - 13 are currently in service(to be withdraw by 2008)
Dominican Republic
Dominican Air Force received 8 aircraft - all units had been written off or destroyed in accidents by March 2001.
Ecuador
Ecuadorian Air Force received 28 aircraft - 20 are still operational.
El Salvador
El Salvador Air Force received 15 aircraft - 9 are currently in service.
Guatemala
Guatemalan Air Force received 13 aircraft - 2 remain in service.
Honduras
Honduran Air Force received 17 aircraft - 10 remain operational.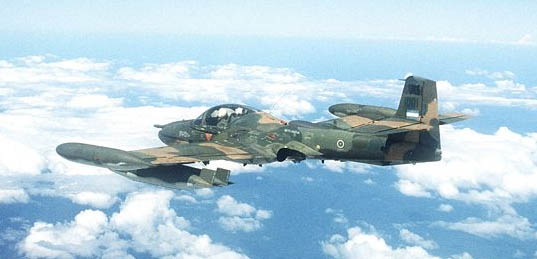 Honduran Air Force Dragonfly.
Peru
Peruvian Air Force received 53 aircraft - only 10 remain operational.
South Korea
South Korean Air Force - all replaced by T-50 Golden Eagle. Also served with the ROKAF's aerial acrobatic team, the "Black Eagle", up until Seoul Air Show in 2007, the last show which the Black Eagle team used the A-37B.
South Vietnam
Vietnam Air Force received 254 aircraft.
Thailand
Royal Thai Air Force received 20 aircraft.
United States
United States Air Force
Uruguay
Uruguayan Air Force received 14 aircraft - 10 currently in service.
Vietnam
Vietnam People's Air Force captured 95 ex-South Vietnamese A-37B aircraft.
---
Sources:
Wikipedia: A-37 Dragonfly
---
WARBIRDS RESOURCE GROUP
>
VIETNAM
>
DRAGONFLY
>
PREVIOUS PAGE
---