---
WARBIRDS RESOURCE GROUP
>
VIETNAM
>
SKYRAIDER
>
PREVIOUS PAGE
---
Douglas Skyraider
Operational History
Korea
Though the Skyraider was produced too late to take part in World War II, it became the backbone of U.S. Navy aircraft carrier and United States Marine Corps (USMC) strike aircraft sorties in Korean War, with the first ADs going into action from the USS Valley Forge with VA-55 on 3 July 1950. Its weapons load and ten-hour flying time far surpassed the jets that were available at the time. On 16 June 1953, a USMC AD-4 from VMC-1 piloted by Major George H. Linnemeier and CWO Vernon S. Kramer shot down a Soviet-built Polikarpov Po-2 biplane, the only documented Skyraider air victory of the war. During the Korean War (1950-1953) A-1 Skyraiders were flown only by the U.S. Navy and U.S. Marine Corps, and were normally painted in dark navy blue. A total of 101 Navy and Marine AD Skyraiders were lost in combat during the Korean War, and 27 were lost to operational causes, for a total loss of 128 Skyraiders in the Korean War.
Vietnam
Although the carrier air wing was rapidly transitioning to jet aircraft, the A-1 Skyraider was still the medium attack aircraft in many air wings in 1965 with the A-6A Intruder slated to replace it. Skyraiders participated in the first strikes against North Vietnam, but were eventually replaced by Intruders. US Navy Skyraiders shot down two Soviet-built Mikoyan-Gurevich MiG-17 jet fighters during the war on 20 June 1965 by LT Clinton B. Johnson and LTJG Charles W. Hartman III (shared victory) of VA-25, and on 9 October 1966 by LTJG William T. Patton of VA-176. While on his very first mission, Navy pilot Dieter Dengler's A-1H was shot down over Viet Nam on 1 February 1966, and then crash-landed in Laos.
As they were released from Navy service, Skyraiders were introduced into the Vietnam Air Force (VNAF) and adopted by the USAF as one of the Skyraider's most famous roles as the "Sandy" helicopter escort on combat rescues. USAF Major Bernard F. Fisher piloted an A-1E on the 10 March 1966 mission for which he was awarded the Medal of Honor for rescuing Major "Jump" Myers at A Shau Special Forces Camp. USAF Colonel William A. Jones, III piloted an A-1H on the September 1, 1968 mission for which he was awarded the Medal of Honor. In that mission, despite significant damage to his aircraft and suffering serious burns, he returned to his base and reported the position of a downed flight crew member.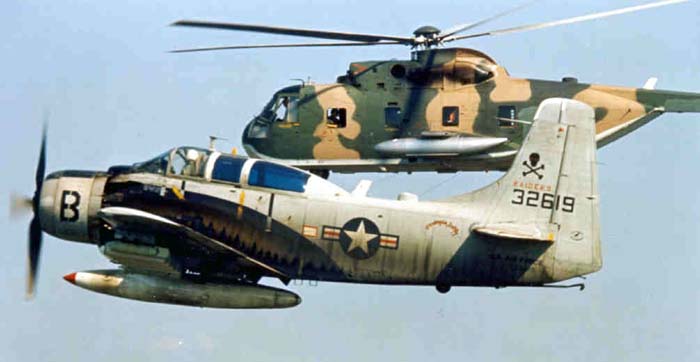 AD-5D/A-1G Skyraider, Bu. 132619, escorts a CH-3 Jolly Green Giant
[Source: Jack Cook Collection]
After November 1972, all A-1s in U.S. service in Southeast Asia were transferred to the South Vietnamese Air Force (VNAF) and their former roles were taken over by the subsonic A-7 Corsair II. The Skyraider in Vietnam pioneered the concept of tough, survivable aircraft with long loiter times and large ordnance loads. The USAF lost 201 Skyraiders to all causes in Southeast Asia, while the Navy lost 65 to all causes. Of the 266 lost A-1s, five were shot down by surface to air missiles (SAMs), and three were shot down in air to air combat; two by North Vietnamese MiG-17s. The first A-1 was shot down on 29 April 1966, and the second A-1 was lost on 19 April 1967; both were from the 602 Air Commando Squadron (ACS). The third A-1 Skyraider was from Squadron VA-35 and was lost to a Red Chinese MiG-19 (J-6) on 14 February 1968. LTJG Joseph P. Dunn (USN), had flown too close to the Communist Chinese held island of Hainan, and had been intercepted. Lieutenant Dunn's A-1 Skyraider was the last U.S. Navy A-1 lost in the war, and he did not survive. Shortly thereafter, A-1 Skyraider naval squadrons transitioned to A-4 Skyhawks.
In contrast to the Korean War, fought a decade earlier, the US Air Force, in Vietnam, utilized the naval A-1 Skyraider for the first time. As the Vietnam war progressed, USAF A-ls were painted in camouflage, while USN A-1 Skyraiders were gray/white in color; again, in contrast to the Korean War, when A-1s were painted dark blue.
In 1965, to highlight the dropping of the six millionth pound of ordnance; CDR Clarence J. Stoddard, flying an A-1H, dropped a special, one time only, object in addition to his other munitions — a toilet.
Algeria
The French Air Force, the Armée de l'Air, bought 113 ex-U.S. Navy AD-4s and AD-4NAs in 1958 to replace aging F-47 Thunderbolts in Algeria. The aircraft were used from December 1959 until the end of the Algerian war. The aircraft were used by the 20e Escadre de Chasse (EC 1/20 "Aures Nementcha," EC 2/20 "Ouarsenis" and EC 3/20 "Oranie") and EC 21 in the close air support role armed with rockets, bombs and napalm. After the end of the war, the remaining aircraft were passed along to Gabon and Chad.
Adaptability:
In addition to serving during Korea and Vietnam as an attack aircraft, it was modified into a carrier-based airborne early warning aircraft, replacing the Grumman TBM-3W Avenger. It served in this function in the USN and Royal Navy, being replaced by the E-1 Tracer and Fairey Gannet respectively in those services

---
Sources:
Wikipedia: A-1 Skyraider
---
WARBIRDS RESOURCE GROUP
>
VIETNAM
>
SKYRAIDER
>
PREVIOUS PAGE
---